Exponential growth of the residential segment: out of 1203 MW, it accounted for 32%
In 2021, 1203 MW of photovoltaic capacity was installed for self-consumption in Spain, an increase of 101.84% compared to 2020.
Domestic self-consumption has increased from 19% in 2020 to 32% of the total.
The industrial and commercial sectors accounted for 41% and 26% of the power commissioned.
Favorable regulatory developments and high electricity prices have influenced these figures.
More and more individuals and companies are opting for this technology thanks to the progressive elimination of administrative barriers and local incentives.
Madrid, January 31, 2022.- According to data recorded by the Spanish Photovoltaic Union (UNEF), 1203 MW of new photovoltaic power was installed in Spain in 2021 in self-consumption facilities. This figure represents an increase of 101.84% compared to 2020, when 596 MW were commissioned.
Of this 1203 MW, we estimate that 1% corresponds to off-grid self-consumption facilities. As for the distribution by sector, most of this new capacity, 41%, has been installed in the industrial sector, 32% in the residential sector and 26% in the commercial sector.
Spectacular growth in residential self-consumption
It practically doubled compared to the previous year. The figures reveal that residential self-consumption has experienced spectacular growth. If the increase in this segment was already striking in 2020, when it accounted for 19%, in 2021 it accounted for 32% of the total. "The new, very favorable regulations and high electricity prices drove these increases," explains José Donoso, CEO of UNEF, who insists that "individuals have realized that their money is better off on their rooftops than in their banks." In addition, the first collective self-consumption projects are starting to come on line, a trend that will continue to grow and boost the sector even more.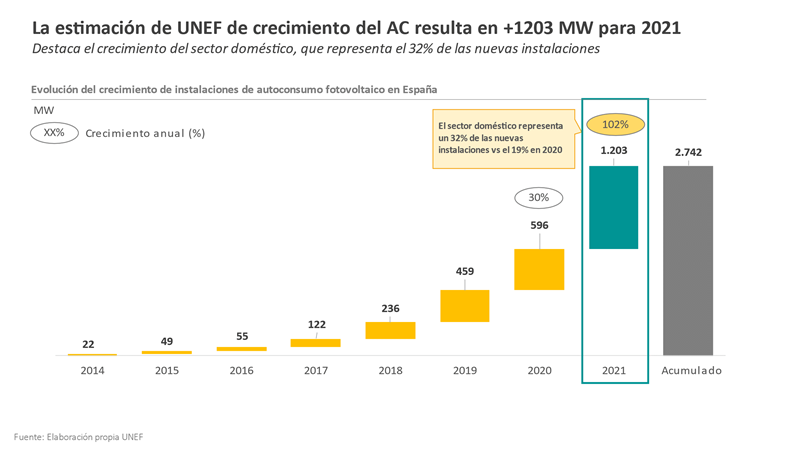 The progressive elimination of administrative barriers and local incentives have also led more and more individuals to become self-consumers. One of UNEF's priorities is administrative simplification for self-consumption. This year there are already 14 Autonomous Communities that have eliminated the building permit for rooftop installations and we hope that the remaining ones will join very soon.
Industrial and commercial segment
Of the 1203 MW of self-consumption installed in 2021, we estimate that the majority of this new capacity, 41%, has been installed in the industrial sector, which has experienced a slight drop - the previous year it accounted for 56% - that will recover as soon as the projects that are waiting for the aid from the Recovery Plan framed in the European 'Next Gen' funds are executed. As of today, 15 Autonomous Communities have already published in their Official Gazettes the calls for proposals within the framework of these European funds. The commercial segment has performed similarly to the previous year, with 26% in 2021 compared to 23% in 2020.
Self-consumption will continue the growing trend of this year, just look at the progression it has experienced after the elimination of the "Sun Tax" in 2018: in 2019 it obtained 459 MW of power, 596 MW in 2020 and 1203 MW in 2021.
About UNEF
The Spanish Photovoltaic Union (UNEF) is the industry association for solar photovoltaic energy in Spain. Made up of more than 600 companies, entities and groups from the entire technology value chain, it represents more than 90% of the sector's activity in Spain and brings together practically all of them: producers, installers, engineering firms, manufacturers of raw materials, modules and components, distributors and consultants. UNEF also holds the presidency and co-secretariat of FOTOPLAT, the Spanish photovoltaic technology platform. The platform brings together universities, research centers and leading companies in photovoltaic R&D in Spain.